If you wish you could watch nothing but commercials during your few hours of free time per day but are constantly bombarded by original, thoughtful content on network television, Gordon Ramsay's Food Stars is the perfect program for you. This new "competition" show on Fox is a parade of nauseating branding and marketing buzzwords that ostensibly pits up-and-coming entrepreneurs in a variety of challenges. The prize? A paltry quarter million dollars of the UK business tycoon's investment money. Unlike Ramsay's other culinary programs, where struggling cooks, chefs, and restauranteurs strive to better themselves, Food Stars is all about the brand and whether that brand and its owner are "good enough" for a celebrity chef to endorse. 
Branded content isn't really new for a Gordon Ramsay show. Hell's Kitchen showcases a line of expensive pots and pans that somehow has all the negative qualities of both non-stick and cast iron. MasterChef forced its contestants to use grotesque cuts of filet mignon from Walmart. Even Kitchen Knightmares featured luxury ranges, ovens and refrigerators when Gordon would remodel a kitchen, even though these appliances were way out of the price range for any small restaurant. These product placements were tolerable because they were just that, placements, backdrops to otherwise compelling narratives.
Food Stars has none of the product–placement finesse that Ramsay's previous shows possess. Brands are shown constantly and prominently, always brightly lit with professional staging and pleasant music. The contestants themselves are just human similitudes of their products, often wearing clothes that match the color schemes of the labels and consistently using marketing language that matches the core style of their brand. Gordon speaks to the contestants in strict commercial language, probing the value they might have to him as an investment opportunity, ignoring their humanity in the process.
The competition aspect of Food Stars is like a game of musical chairs for brand commercials. In each episode, the contestants participate in a challenge that's designed to test their entrepreneurial skills and acumen. Each brand that survives the challenge gets a greater share of viewer eyeballs the longer they're able to escape Ramsay's guillotine. By the end of the series, there were only three contestants to fill an hour-long show, meaning each product got dozens of commercials worth of screen time. Reaching the finale was just as valuable as actually winning.
The challenges in Food Stars offer the only respite from product placement, but they're not fun or creative enough to save the rest of the program. They also seem aimless and not at all within the theme of the rest of the show. The series premiere features competing pop-up food stands at the beach, as if the ability to serve sand-sprinkled hot dogs correlates with success in selling pasta sauce. The penultimate episode has the contestants designing meal courses for a circus performance, and they're judged on their ability to incorporate juggling and other acrobatics with serving food and beverages. There's some dumb spectacle to it all, but it's hollow.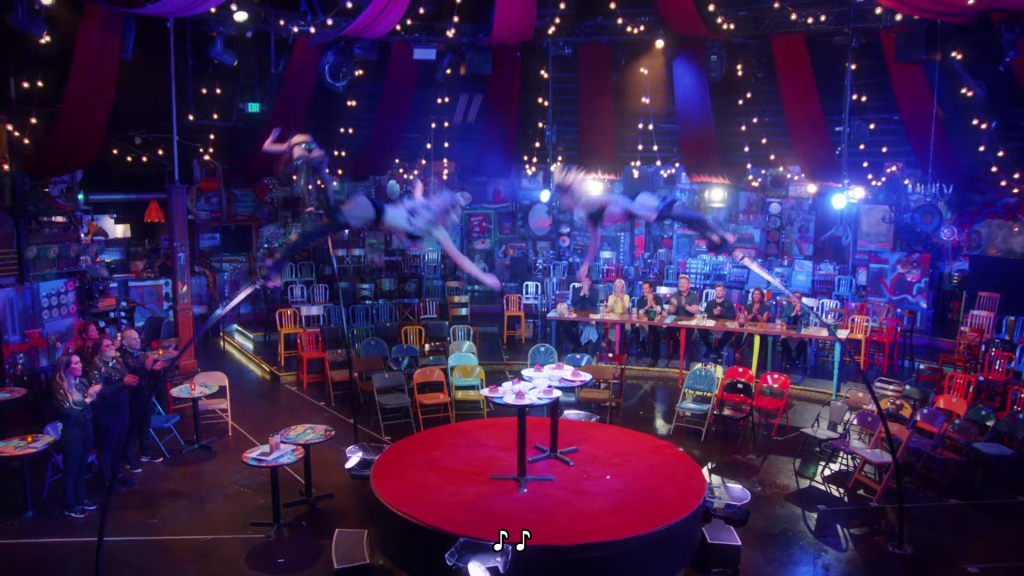 Maybe Food Stars wouldn't seem as obnoxious if there were anything original about it, but nearly 20 years after Guy Fieri won the second season of The Next Food Network Star, the concept seems stale. As it is, the show feels like a fake program you'd see in a Paul Verhoeven movie or a parody of our current capitalist hellscape. The fact that it's real, however, is deeply alienating and depressing, like staring into the eyes of Ronald McDonald. Hopefully, Ramsay's upcoming revival of Kitchen Nightmares will be a return to form.